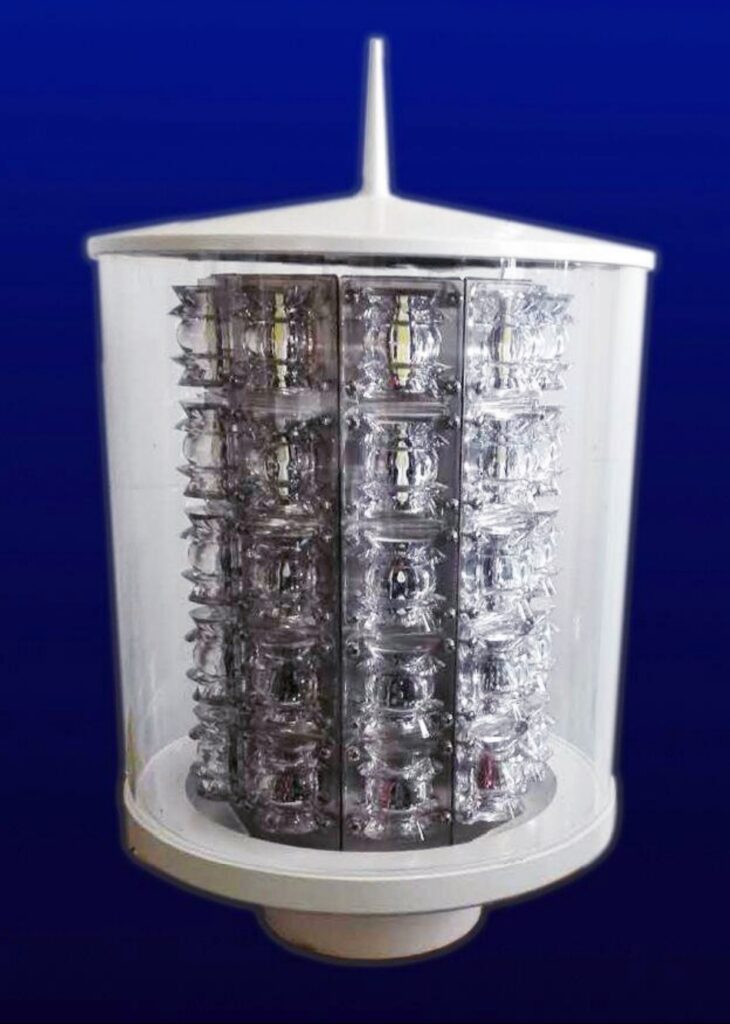 Pictures above shown: WM-patented individual lens optic projection of LED light source
The WM-L500C high intensity LED beacon is primarily designed to be deployed as a long-range beacon for lightbeacon or lighthouse applications. The effective range is typically 18 nautical miles @ T=0.74 (or in excess of 50,000 cds) but is capable of achieving beyond and up to 22 nautical miles.
WM-L500C uses a special customised triple-chipset LED lightsource (high intensity powerful light source within a single component assembly), coupled individually with a WM-patented lens optic for high efficiency light projection. The configuration is completely flexible to suit enduser's unique requirement of luminous range.
WM-L500C high intensity long-range LED beacon housing is constructed of corrosion-resistant, cast aluminium alloy material that holds an array of toughened, WM-patent designed, UV-stabilized, high precision-molded acrylic fresnel lens ensure minimum variation in output intensities. Lantern housing with UV-stabilized acrylic cover and be able to withstand high temperature outdoor exposure.
The WM-L500C never needs to be opened for servicing and maintenance because the light is factory sealed to IP68 and with no moving parts and lamps to be replaced.
The heart of the WM-L500C is the intelligent digital controller module accepts a wide range of input voltages. Essentially for LED technology, it regulates and maintained constant distribution of current to each tier and sub-groupings of LED array. Precision controlled to ensure the LEDs are operated and produces constant intensity with highest efficiency.
Flash characters are programmable via an InfraRed programmer unit (SYD-1 MASTER). Up to 256 preprogrammed flash codes are available and other commands available are FORCING ON / OFF, RESTORE to PHOTOCELL operation and BEACON ADDRESS (for telemetry purposes).
Telemetry tap-off / Communication with the WM-L500C high intensity long-range LED beacon is done via RS485/RS232 serial communication leads (provided upon request). This feature applies to all WM's LED light models.
Technical Specifications
INPUT VOLTAGE
:
12V/24V/48VDC or AC Mains Supply
INPUT PROTECTION
:
Switch mode Regulated
LED array(s) lifespan
:
100,000 hrs (continuous operation)
Beam spread
:
Omnidirectional (360°) or Directional (sectored)
Colours available
:
Red / Green / White / Yellow
POWER CONSUMPTION
:
typically 48 watts per High Intensity LED array
OUTPUT INTENSITIES
:
5-steps programmable by IR programmer (optional)
REVERSED POLARITY PROTECTION
:
Yes
LIGHTNING PROTECTION
:
Yes (built-in)
FLASH CHARACTERS
:
up to 256 preprogrammed, user-selectable via
InfraRed programmer unit (SYD-1)
DAYLIGHT SENSITIVITY
:
300 lux ± 50 lux
5-steps programmable by IR programmer (optional)
TEMPERATURE RANGE
:
-30°C to +70°C
RELATIVE HUMIDITY
:
100% (condensing)
VERTICAL DIVERGENCE
:
2.5°
HORIZONTAL LIGHT DISTRIBUTION
:
>90% (within 10%)
SYNCHRONISATION
:
Hard-wired / Wireless (optional)
COMMS INTERFACE
:
RS232/RS485 (optional)
DIMENSIONS & WEIGHT
:
Please refers to GA drawing of WM-L500C
(different tiers configuration)
MOUNTINGS
:
4x dia. 14mm holes on 200mm PCD
LIFESPAN EXPECTANCY
:
15 years
INGRESSION PROTECTION
:
IP68
ATTESTING REFERENCES
:
CE (EMC), SGS, SIMT;
in full compliance with IALA Recommendations